Mulled Cognac Cranberry and Clementine
Chutney~Cooking Red to Remember
As many of you may already be aware, December 1st is World Aids Day.
"Cooking Red to Remember" round up on that day.
So along with many other bloggers around the world we are cooking up red.
Red to remember and most of all to honor the lives of those lost, and reach
out to offer a small amount of comfort to their loved ones.


We dedicate this post in celebration of the lives of all those affected by Aids
and HIV. We also want to honor and celebrate all those who work tirelessly
in an effort to find a cure.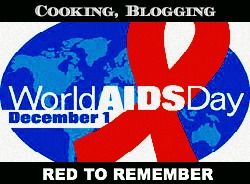 And since it is the season for all things cranberry, we are going to start there.
Plus mulled anything during the cooler weather seasons screams comfort to me.
Then trow in a few bright and sunny seasonal clementines,
equals one happy girl.
What you will need:
For the mulled cognac
2 rounded tablespoons mulling spices
1 cup cognac
4 clementines, juiced
For the chutney
12 ounces fresh cranberries
3-4 clementines, skinned and chopped
1/2 cup maple sugar
1 teaspoon light oil (like grapeseed)
1 cup mulled cognac
Let's get cooking:
For the mulled cognac
Place mulling spices that have been bruised or lightly crushed into a prepared
sachet, or create your own with cheese cloth and cooking twine.
In a small to medium sauce pan, place fresh clementine juice and cognac
along with sachet of mulling spices.
Over a moderate heat bring mixture to just below a boil. Reduce heat and
cover allowing to simmer on low heat for about 20 minutes.
Note: if your sachet is not completely submersed in liquid, stir occasionally
making sure the spices stay damp.
Set aside
For the chutney
Begin by peeling your clementines then sectioning them. Removing the
membrane and inner skins, then chop into chunks.
Place cranberries and clementines into a medium sized pot. Add sugar
gently agitating with a wooden spoon to coat the fruit.
Now add oil and mulled cognac bringing mixture to a low boil. Using
a wooden spoon continue to mix ingredients and press cranberries
along the sides of the pan to release juices.
Reduce heat to low and allow sauce to simmer for about 25 minutes or so,
or until desired thickness is achieved.
Note* If chutney becomes too thick, add more mulled cognac or juice
to bring to desired texture.
Serve warm with your favorite bread and cheese...
Enjoy~
Alisha~Magic of Spice